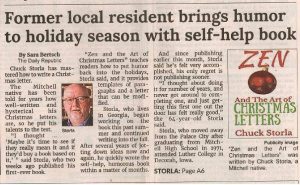 Today a story ran in the Daily Republic newspaper and online covering the release of my book. For those of you just joining us, this is my hometown paper in Mitchell, South Dakota.
I know it does not have the reach of a larger paper, but I am proud to have this mention in the paper I used to deliver.
For you trivia buffs, I had a paper route for several years and delivered copies of the Daily Republic to customers on West 11th and 12th streets.